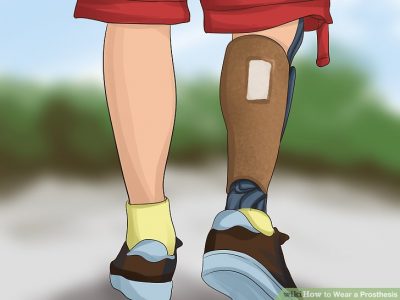 Warning. Contains graphic images. May be unsuitable for the squeemish.  😉
Between last Thurs. noonish when I first wore my new AL (Artificial Leg) and Saturday noonish, I developed a little blister on my stump from friction on my damp (sweaty) skin. It's only the size of a nickle and it popped during last night. I guess I overdid wearing the new AL .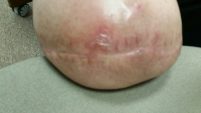 I spoke to my Prosthetist today and he suspects it may be a "suction blister" or what might be called a prosthetic hickey. My leg is really happy with AL but, a hickey? Or, perhaps I had too thick of a sock on. They have provided me with 3 different thicknesses of socks and I haven't yet mastered how to determine what thickness(es) to wear.
He suggested I not wear AL until the blister heals (shock separation?) or if I do, put a thin bandage over the blister. My fancy miracle creams are doing a great job of healing the blister but I'm concerned that they are also softening my skin instead of toughening it.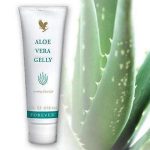 I wasn't sure if you wanted this much information but many have been very polite and asked how I was doing with the new device. I'll post again when I have more progress.
Happy day to you,
Darryl
Facebook Comments